Folks, the time is almost here. In 24 short days, the college football season will be underway. And thus, it becomes time to discuss, preview, and predict the season. National title picks will come closer to the start of the season, but for now, I'd like to take some time to discuss something that's been confusing me a bit lately.
Penn State Univeristy seems to be getting a lot of attention this preseason, as they do every season, and to be honest, I'm not really sure why. They are listed at 22 in the recent coaches poll, and, as they are every year, will undoubtedly start ranked in the preseason AP poll, or at least, for the first two weeks until they quicky drop out (is this getting old to you too, you old Associated Press, you?)
One look at Penn State's recent history, and it's blatantly obvious this program has been on a steady decline for quite some time now. Over the past ten years, Penn State has had a winning conference record a mere five times ('98, '99, '02, '05, '06), and they have had an overall winning record only six out of those ten times ('98, '99, '02, '05, '06, '07). In those six years, Penn State finished over five hundred by more than five games only twice, in 1999 and 2005, which were also the two only years the program achieved double digit wins (ten and eleven, respectively). And in those ten years, Penn State has made ONE BCS Bowl appearance, in 2006's Orange Bowl (in which the Lions beat Florida State in a game that prominently featured some of the nation's absolute worst field goal kicking ever seen ANYWHERE).


This was probably a miss.
In another bit of recent news, Joe Paterno will be turning eight billion years old this fall, making it even harder for him to keep a grasp on a game that is rapidly getting away from him. The last time a Paterno team was truly dynamic was when it was being quarterbacked by a Chris Robinson, a truly dynamic individual, who wasn't afraid to take the offense into his own hands. Since then, Paterno has coached a traditional three yards and a cloud of dust Big Ten football team, one that is rapidly being passed by by a game that is now more concerned with speed and outsmarting the opponent.
As if that wasn't bad enough, Penn State's discipline issues are way out of control. Just last week, Paterno had to release defensive tackles Chris Barker and Phil Taylor due to off field issues, and this is nothing new for the Nittany Lions. In fact, ESPN reports-"Since 2002, 46 Penn State football players had criminal charges filed against them and 27 either pleaded guilty or were convicted."
Wow. All this, and yet, Penn State will still unquestionably start the season ranked in the AP poll. Makes you wonder about those deserving, mid majors who, even after an undefeated season, still can't ever earn a national title bid...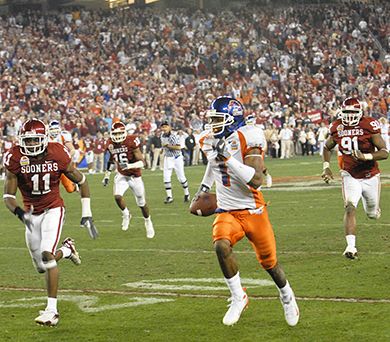 --Shylock